How To Use Google Voice In Canada
On this page, I am going to demonstrate and show you how to use Google voice in Canada. As you know, the service is only available in the United States. Which means you are required to be a USA resident and verify an existing US phone number. Then and only then can you get a Google voice number. But, there's always a way around things. Let's see how we can do it... 
Since I had Gmail account there was no need to create a new one. So just did the following steps:
1. I had to use a VPN (Virtual Private Network) - anonymous proxy service to show my IP address as if I am in USA. I will list some VPN providers below in a while. Once I made sure I'm using an IP from US, just typed www.google.com/voice and logged in with my Gmail e-mail address. Then I got…
Viola! that was the first success. Meaning I would be able to get a new number and forward to my phone home or mobile phone.

2. I chose a number in AZ, an area code starts with 480..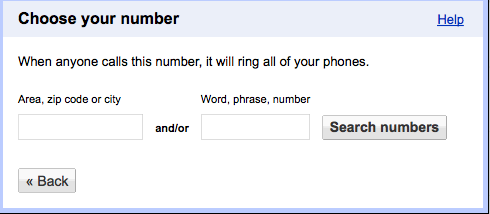 3. Now, it was time to forward my Google voice number to my Canadian number. Google allows you to forward to Canadian number with 403 area code ONLY.  Luckily I happen to live in Alberta and have numbers with 403.

4. Next, Google wanted to verify my number…

5. Done! Ready to start making and receiving phone calls in North America.

Whenever I want to change or add more numbers and check my voice-mail, I simple click on setting found on top right of the page...

That was all about it. 

---
Revising Steps For You
To wrap it or if you want to try yourself try the following steps and let me know how it did go..

Requirements:
VPN / Anonymous Proxy service
Forward to Canadian 403 phone number

VPN / Anonymous Proxy service
Then you should use a proxy server with a USA IP address. A proxy service is a service provided by some companies to help you protect your identity online. The following short video explains what a VPN or proxy is:

Got it? I suggest you try with free VPN trials first then upgrade to pain version once you think it's worth having it. I have tried these two companies:

Which one I like most? Of course, HotSpot Shield - even upgraded because it's cheaper and more flexible than proXP. You can choose Hotspot Shield Elite one year, or monthly.
Click Here
There are many other VPN providers as well.
So you IP is hidden? To make sure your IP is showing from US just browse or visit tracemyIP.com website.

Want to know what an IP address and the website is all about? Check this link
What is TraceMyIP.org?
Gmail
Now go to google.com/voice and login in with your current Gmail (if you already have one) or sign up for a new account/Gmail address at gmail.com

Get A Google Voice Number
Chose a US number by typing city, zip code or an area code of your choice. Look the image above (step # 2).

Forward to Canadian 403 phone number
In this case, you will need to forward your Google voice calls to Canadian number with 403 area code. Don't have a number in that area code? No problem! You can get a free number provided by Canadian CLEC (Competitive Local Exchange Carrier) company. And forward to your home or cellphone number.

Unfortunately you've to be in Canada to get free number in Calgary 403 area code. Head to FreePhoneLine article to learn more about it and sign up.

Eventually you have nothing to lose but achieve ….

| | | |
| --- | --- | --- |
| | + | |
Forward → to

Your Home / Cell Phone #

=  All For FREE 
That was all about it. So, how did you do? Share your comment, suggest, question or experiment with us!
***Update***
Unfortunately...the trick doesn't work anymore. Google voice no longer allows you to forward to 403 area code., the above article was written based on the loopholes that existed. Now you may only get GV number by skipping the Canadian free number. However, there's rumours that Google is readying to provide the service in Canada. 
So what's happening is this...when I try to forward or verify a phone number, Google doesn't call you.. If you ever try, you get the following window messages...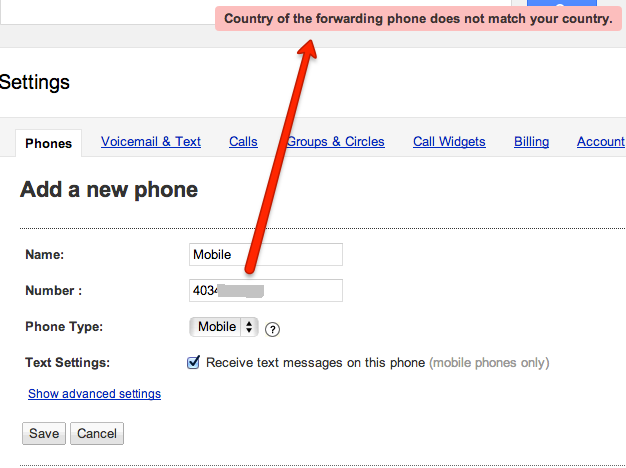 I still use my old number though, which was done when the trick worked. But hey, if you are desperate with google voice there still is a a way. For instance, by using SIP, VoIP Adapter devices etc...poplar one is OBIHAI. 
Let's hope Google launch the service in Canada. 

You may be interested in the following related articles:
---
You are here:
VoIP

›
Free VoIP Phone Service
› How To Use Google Voice In Canada
VoIP

›

Free VoIP Calls
› How To Use Google Voice In Canada
---