VoIP Call Center
A VoIP call center is a center or office usually set up by large companies to handle inbound and outbound telephone calls to provide customer service/support. Call center VoIP is literally same as the traditional call center, the difference is that it just uses IP based data networks instead PSTN.
Courtesy Of cloudtimes.org

VoIP call-centers are also known as contact centers. However, contact centers do a lot more than in-coming and out-going calls. Beside phone calls contact centers handle
online communication such as Instant Messaging i.e chat on a website.

Many mid-to-large size companies switched or in the process of switching to call center VoIP after realizing the benefits of it. Very few company still use an onsite based center.
Have you recently received a call from your local telephone company (be it a land line or mobile operator)? Or may be you called your cable, bank, utility etc...to request for something? Then you were greeted by an agent saying something like - "Hello! I am John Doe, how can I help you today?". Chances are you've been transferred to their call center agent probably outsourced in India or another Asian country. 
How it works
Call centers use VoIP technology to send their calls through IP (Internet Protocol) networks. Unlike the traditional centers that are physically hosted in traditional companies known as POTS (Plain Old Telephone Service). 
Tips: VoIP is acronym for Voice Over Internet Protocol, a transmission of voice, data and video via Internet networks. For more details visit VoIP definition.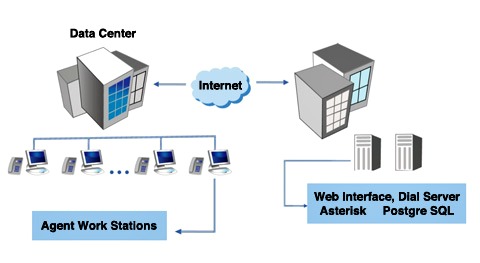 Courtesy of VCCC

Types of VoIP call center
In-bound / in-coming - usually customers call to inquire about a product or service or seek technical support
Out-bound / out-going - where agents. telemarketers etc.. call to customers 
Blended VoIP call center - this type of center does both the above ( in-bound and out-bound calling)
Who's it for
It depends on the type of business and size of the company you have. Usually mid to large companies with big number of customers require this solution. For instance let's mention few, starting by VoIP companies since this is a VoIP site...
Cell phone/mobile operators
...and more can be listed. 

Where to find the service/solution
Look for call center software providers. Below are few to mention...


Business VoIP Phone Service Providers


| | | |
| --- | --- | --- |
| Provider Name | Monthly Cost | More Info & Details |
| | | |
| --- | --- | --- |
| | From $19.95 - $29.95/mo | More info about Jive |
| | | |
| --- | --- | --- |
| | From $19.95 - $29.95 / Month   | Visit Nextiva link |
For more details or list of companies visit business VoIP providers.
Related Articles...You May Be Interested In:
---
VoIP
› VoIP Call Center
---