Nextiva Business VoIP Provider 
Nextiva is one of the leading business VoIP providers, it offers hosted PBX and online fax solutions nationwide. The company also provides unified communications, advanced hosted VoIP systems to small and mid-size companies.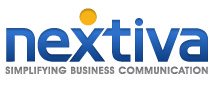 says...

Nextiva simplifies the way businesses communicate. We acquired our first customer in 2008, and today over 100,000 businesses across the United States use Nextva. Our team consists of over 300 talented people that embrace Amazing Service. Technological innovation and our team are our competitive edge. We don't study industry trends and build our products and services reactively; we define the industry's direction. We have revolutionized the way businesses communicate, and we will continue to do so. 

We work with passion and take our business seriously. We also aim to cultivate an environment of having fun while accomplishing our goals. Our culture is both professional and playful, and this approach plays a key role in our daily successes. Our culture of Amazing Service extends to how we treat both our customers and each other. We are passionate about Nextiva's unique culture, and of course are looking for like minded individuals that share our values and vision. 

Feel free to comment, rate, review and ask or answer about this company using comment section at the bottom of this page.
Products, Services and Solutions:
VoIP For Businesses & Enterprises
VoIP For Education Institutions
Call Center
Online Fax
Hosted PBX
SIP Trunking
International calls
VoIP Equipment (Hardware and Software):
Nextiva Connect

Nextiva Drive
Nextiva App
Polycom & Cisco IPhones
Nextiva vFAX

BYOD (Bring Your Own Device)

Soft-Phone

Nextiva Mobile App
Features:
Auto Attendant
Call Recording
Do Not Disturb
Three-Way Calling
Unlimited Virtual Faxing
Transferring a Voicemail
Call Me Now
Hunt Group
Push To Talk
Caller ID
Call Parking
Call Waiting
Anonymous Call Rejection
Call Forwarding Always
Dial-by-name Directory
Directed Call Pickup
Professionally Recorded Greeting
Voicemail to Email Messaging



Business VoIP Plans


More About This Company and Contact Info
Business Years

2006-Present

Awards 
2011 

2010 - 2011  

2008 - 2011 

2009 - 2010  

2009  

2008  

Best Places to Work in Phoenix

Communications Solutions Product of the Year

Internet Telephony Product of the Year

Top Business VoIP Provider from CompareVoIP.com

Provider of the Month for July from WhichVoIP

#1 Business VoIP Provider from MyVoIPProvider.com



Compare With Other Similar VoIP Providers 
Leave Your Comment & Review
Posting your comment/review is easy to do. Let's get started with....


Nextiva Reviews
Already crowned "VoIP Provider of the Year", again, Nextiva has quite a bit of experience in the world of digital business dialing.  Customers can benefit from unlimited domestic calling, and apparently the customer service is top notch.  Pricing is reasonable (around $22/month), and again, the lack of a contract can be quite appealing. 
With several options to choose from, these are only a few examples of companies that are making moves in the business VoIP provider arena.  You'll want to properly evaluate where you are as a business, but most importantly, consider where you want to be.  If you are hoping to expand into international markets, be sure to sign up with a provider that can accommodate that.  Those hoping to stay in the United States or Canada can find reasonably priced service without counting minutes. Either way, the important thing to remember is that no matter which route you're taking, it sure beats the heck out of paying the phone company another dime, doesn't it?
Reviews on other sites (whichvoip.com):
Related Articles...You May Be Interested In:
---
Home

›
Business VoIP Provider
›› Nextiva
---