Let Customers Reach You With Click To Call

Click to call is one of the latest VoIP application that allows you to make or schedule a free call-back. It is also known as call me now, request a call, web call back, click to talk and schedule a call. Note that it is not same as toll free numbers or service.

Click to Call Button Widget by eStara
The whole process is done using a widget or button embedded on a website. The button can be placed on:
email links or attachments
How Click To Call Works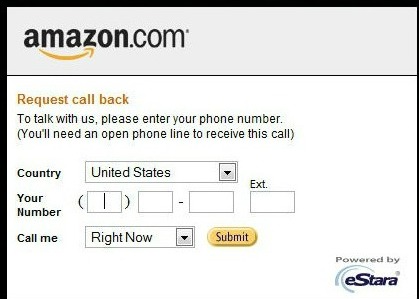 Click2Call Widget
For website owners / service providers....
You get to chose a widget or text to place on your site and set it up with your call center....
embed the code on your web site and place it where your site visitors can easily see it
visitors click on the widget and enters a telephone number
your provider's server calls your visitor 
your visitor answers then the server dials your call center's phone number
the server connects you and your visitor - that will be time to assist and answer your prospect's question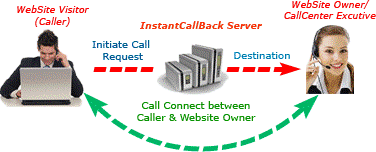 How Click to Call Works
Courtesy of IBN Tech LTD.

For customers/ website visitors...
visitor clicks on the "call me now" button
select where you'd like to get the ring - on your PC/Laptop or to your regular phone number
wait for the provider's server to call your number or computer
answer the call and listen to IVR (Interactive Voice Response) message (e.g please hold on)
provider's server dials the call-center of the company or web site owner
server connects you both - once the call is established time to talk for free
Advantages of Click2Call for site owners

Site owners
easy use & embed on your site
lead your competitors with latest technology
you chose between widgets, hyper-link & attachment through email
let your prospects know when you are on-line or off-line

Customer/Visitor
easy to use and free of charge
better than toll free number (no long hold time)
time saver - ask and be sure before you buy or sign-up
convenience - initiate and receive the call back wherever you wish - PC, laptop, fixed or mobile phone 
Disadvantages for visitors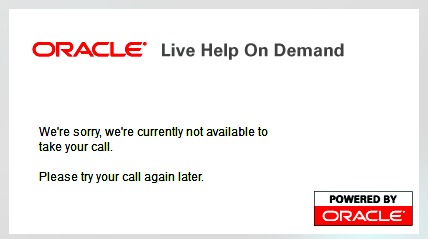 "off-line message" this is not good when your call is urgent and have a question or would like to buy the product/service ASAP. Usually you get a message that look like the above image
---
For a list of companies that offer the above service visit Click to call providers.
Click to Call
Comment & Providers Review
Use the form below to comment, refer & review click to call providers...
You may be interested in the following related topics:
---
VoIP

›
VoIP Basics
› Click to Call
---