A Glance at Wireless VoIP Phones
Wireless VoIP phones look like typical mobile phones. They are part of stand-alone and easy to use VoIP devices. The VoIP technology continues to flourish, so does the hardware associated with the movement. As many use Wi-Fi hotspots and accessing the Internet on a daily basis across the world, it was only a matter of time before we started seeing wireless VoIP phones. 
Wifi devices are great because they give you the ability to utilize the technology whenever and wherever you are. Here is what a wireless VoIP Phone looks like...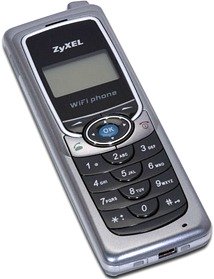 ZyXEL Prestige 2000W v.2 - IEEE 802.11b (Wi-Fi) - SIP
Requirements:
WiFi, Hotspot Internet access (IEEE 802.11b)
Benefits of Wireless VoIP Phones
Mobile - can be used outside of your office or home
WiFi phones come in many shapes and sizes, and choosing the right one for you can be a little tricky if you don't know what you're looking for. To remedy this, let's take a quick look at a few of the more popular devices available for you.
---
For an IP wireless phone, the Cisco 7920 performs quite well. Generally used for business purposes, this model performs beautifully with other Cisco components, and boasts a very intricate feature suite including updated security, call quality, and in-depth management capabilities.
---
| | |
| --- | --- |
| Netgear SPH101 Skype | The SPH101 wireless IP device from NetGear is Skype enabled, gives you access to the Skype network without a computer. The color screen provides great visuals and the features unlike other phones, slightly more expensive ones. |
---
CIT200 offers you an indoor range up to 160 feet. The quality isn't sacrificed in the affordability which should attract many looking for their first introduction to the wireless VoIP phone.
---
When you are comparing the various options for your next, or first, Wi-Fi phone, remember that there are several options not listed here. Be sure to check in for updates. Utilizing the VoIP network through Wi-Fi VoIP phones can get you out of the vicious cell carrier cycle and into a more international, free calling plan.

You may be interested in the following related articles:
External related link/s and resource/s:


Wireless WIfi VoIP Phones - VoIP Supply
Wireless IP Phones - IP Phone Warehouse

---
You are here:
VoIP

›
VoIP Devices
› Wireless VoIP Phones
---